Gaylord's Gasco thumps Trojans with new jersey in 1-1 draw | Sports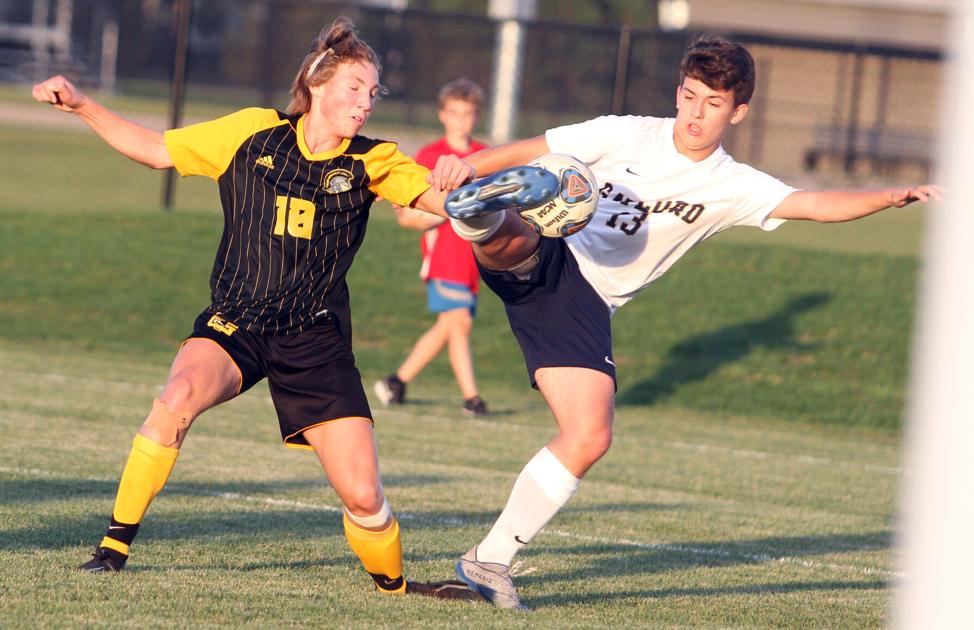 TRAVERSE CITY – Jared Gasco may have found a new jersey.
The Gaylord senior goaltender won multiple times in the second half after a bloody nose in the first half forced him to change jerseys during intermission.
Gasco's saves – and Gaylord's defense as a whole – helped the Blue Devils tie Traverse City Central 1-1 in a Big North Conference football game on Thursday at the Trojan Athletic Complex in Traverse City. This is the first draw between the teams on the ground of Les Troyens for 25 years.
After the jersey change, Gasco did not concede a goal, despite a lot of action as Central held a decisive advantage in possession.
"It gives me superpowers, apparently," Gasco said of the backup uniform, a red and black striped uniform with his real jersey number 00 on it.
He wore a yellow No. 16 uniform from an ID camp at Spring Arbor University in the first half, but was hit in the face during a corner kick and bled all over the place.
So came out the backup "00".
"It might be his number 1 goalie from now on," said Blue Devils head coach Brandon Contreras. "I could make him wear that one."
Gasco finished with 11 saves, while Colton Warren of TC Central made seven saves.
"We knew we had to get revenge on the last game when they took first place from BNC," Gasco said. "We just played our hearts out."
Central led 1-0 in the fifth minute on a perfect corner from Casey Heiman who folded into the goal for his first score of the season.
The Trojans played heavily throughout the game, but the Blue Devils kept them off the scoreboard after Heiman mastered.
"I didn't really expect to put him behind the goal there," said Heiman. "I was more or less trying to get past the goalie, and he just found his way into the net. I just had a good curve on it, I guess.
The goal was also Central's first corner kick this season. The senior left-back also produced stellar defensive play late in the first half, chasing a Gaylord forward from behind and throwing him off the ball to prevent a great Blue Devils scoring opportunity.
"A tie is better than a loss," said Heiman. "We were hoping to win, but we gave it our all. Their goalie made some great saves that kept them in the game, so that's what it came down to. "
Gaylord senior Ian Busch tied the game 1-1 on an assist from Charles Holscher with 8:55 left in a game, which was played with just two officials after the third failed to show up.
Central ended the game with a 12-9 advantage in shots on goal, and even more lopsided in total shots. Les Troyens scored two goals near the second half that went missing. Central generated six corners two by the Devils.
"I don't even mind saying it, but we dominated this game and we just couldn't score," said Central head coach Chris Hale. "Our guys worked really hard and they played really smart. They were organized, their accumulation was strong. Everything we talked about was great tonight except the finish.
Gaylord's next best chance came with an Aidan Carr header at 7:15 of the second half that hit the crossbar.
"Gasco played the lights, absolutely phenomenal," said Contreras. "On his own, he kept us relevant in this game. "
Contreras said he was always looking forward to playing at Central, calling it a "very friendly rivalry". The two went their separate ways last season, each scoring two total goals against the other in two encounters.
After starting the season 5-2 and ranking in the top 10 in Division 2, Gaylord (7-7-1, 2-4-1 BNC) lost five straight games, starting with a 1-0 loss. against the Trojans a little more. two weeks ago. The Blue Devils have won two in a row heading into Thursday's game and have four games over the next 10 days, including dates against BNC's top two teams (TC West and Petoskey) as well as TC Christian and Alpena.
"A tie is a tie," Contreras said. "I prefer a win, especially with the way we started the season. We started the season with a bang and kind of gave up after playing them the first time at home. But it feels good to come back. It's much better than a loss.
TC Central (9-4-1, 4-2-1 BNC) have won seven of their last 10 games and visit TC West next Tuesday in a busy three-game week with Petoskey (10-3-2, 4-2 BNC ) and Midland Dow (13-1) also on the agenda.
Follow @ Jamescook14 on Twitter.